Amnesty Statements:
13. 01. 2021
Responding to the acquittal today of MP Sivanesathurai Chandrakanthan and four others in the 2005 assassination of Tamil MP Joseph Pararajasingham, following an announcement by the Attorney General's Office that it would be dropping the charges against the suspects, David Griffiths, Director of the Office of the Secretary General at Amnesty International, said:
"The collapse of this case marks yet another sorry milestone in the Sri Lankan authorities' continued failure to ensure justice for crimes committed during the armed conflict. The Attorney General's Office has not indicated any interest in re-opening the investigation into the murder.
Zum Statement: Sri Lanka – Collapse of Joseph Pararajasingham murder case a failure of justice
30. 11. 2020
Responding to the news that at least eight prisoners were killed and more than 50 others injured following an incident at Mahara Prison Complex in Western Province involving prisoner unrest related to COVID-19 and overcrowded conditions, David Griffiths, Director of the Office of the Secretary General at Amnesty International, said: "In the immediate term, there must be a thorough and impartial investigation into this incident and the use of lethal force – including firing live ammunition – by prison authorities.
Zum Statement: Facebook Twitter Sri Lanka: Prison deaths must be investigated amid growing COVID-19 unrest
27. 11. 2020
Urgent Action:
Der Gefangene und frühere Leiter der Kriminalpolizei (CID), Gnendra Shani Abeysekara, wurde am 24. November positiv auf COVID-19 getestet. Laut Angaben der srilankischen Menschenrechtskommission wurde er kürzlich in ein abgelegenes Behandlungszentrum für Gefangene verlegt.
Zur Aktionsanleitung: Ehemaliger Polizeichef trotz Covid-19 in Haft
English: FORMER POLICE INVESTIGATOR JAILED WITH COVID-19
16. 11. 2020
Sri Lanka muss Mittel zur Unterstützung des Transitional Justice Prozesses für Konfliktopfer bereitstellen.
Die Regierung von Sri Lanka muss sich weiterhin dafür einsetzen, Tausenden von Opfern des Bürgerkriegs im Land Wahrheit, Gerechtigkeit und Wiedergutmachung zukommen zu lassen, sagte Amnesty International, bevor der Staatshaushalt für 2021 bekannt gegeben wird.
Zum Statement: Sri Lanka: Commit funds to support transitional justice process for victims of conflict
16. 10. 2020
Sri Lanka: Prominent human rights lawyer arbitrarily detained for six months must be released
The Sri Lankan authorities must release prominent human rights lawyer Hejaaz Hizbullah, who has been held in detention for more than six months under the country's repressive Prevention of Terrorism Act (PTA) without charge or any credible evidence being put before a court, said Amnesty International.
A notable government critic, Hejaaz Hizbullah has been held at the Criminal Investigation Department headquarters in Colombo since his arrest on 14 April 2020, with restricted access to his lawyers, family and wife. Under the PTA, the authorities can detain any 'suspect' for up to 18 months, using detention orders lasting 90 days at a time. Hejaaz Hizbullah's second period of detention expires on 17 October.
"The PTA is a law that has been abused and exploited by the government to gag its critics. Hejaaz Hizbullah has now been held in detention for more than six months without a shred of evidence having been shown to a court that he has done anything wrong – a situation that could yet persist for another year," said David Griffiths, Director of the Office of the Secretary General of Amnesty International.
According to the two detention orders issued by the President, Hejaaz Hizbullah was being investigated for allegedly "aiding and abetting" one of the bombers who perpetrated attacks on churches in Sri Lanka over Easter 2019 and for engaging in activities deemed "detrimental to the religious harmony among communities".
"The handling of Hejaaz Hizbullah's case has trampled over a host of Sri Lanka's human rights obligations, including the protection from arbitrary detention and unfettered access to legal counsel. This must not be compounded further by yet another unwarranted detention order depriving him of his freedom – this draconian law must not be used to justify his unlawful detention," said David Griffiths.
"The Sri Lankan authorities must repeal the PTA and provide people who have suffered because of it the justice they are owed, in the form of remedies and reparations."
Background
Hejaaz Hizbullah has been involved in a number of important constitutional cases including the challenge to the dissolution of Parliament during Sri Lanka's 2018 constitutional crisis. He has also represented clients in several human rights cases involving the arrest and detention of members of minority communities. He has been an outspoken voice on issues of reconciliation, co-existence and minority rights.
Prominent human rights lawyer arbitrarily detained for six months must be released
Zu diesem Fall hat die zuständige Amnesty-Researcherin in Colombo, Thyagi Ruwanpathiran, dem Radiosender Radio Islam am 16. 10. 2020 ein Interview gegeben.
04. 08. 2020
Malediven, Urgent Action: SORGE UM GESUNDHEIT EINES POLITIKERS
Ahmed Adeeb, der ehemalige maledivische Vizepräsident, wurde 2015 allem Anschein nach aufgrund politisch motivierter Anklagen festgenommen. 2019 wurde sein Schuldspruch aufgehoben und weitere Anklagen gegen ihn ließ man im Juli 2020 fallen. Lokale Medien berichten, dass die Generalstaatsanwaltschaft mit dem Fall in Berufung gegangen istund Ahmed Adeeb am 24.Juli 2020 wieder in Gewahrsam genommen wurde. Sein Gesundheitszustand gibt Anlass zur Sorge, da er an mehreren Krankheiten leidet.
29. 07. 2020
Report: Sri Lanka: Human Rights Under Attack
The Sri Lankan government should end the targeted arrests, intimidation and threats against the lives and physical security of lawyers, activists, human rights defenders and journalists, 10 inter-national human rights organizations said today. A campaign of fear has intensified since the 2019 presidential election, and has cast a shadow over the 2020 parliamentary election campaign.
17. 07. 2020
Gestern wurde die Anhörung über eine Freilassung auf Kaution für Ramzy Razeek auf den 29. Juli verschoben. Falls Sie es noch nicht getan haben, ergreifen Sie bitte vor dem 29. Juli Maßnahmen in seinem Namen. Bitte schauen Sie sich das Amnesty-Video zu seinem Fall an, twittern Sie es und teilen Sie es (https://twitter.com/amnestysasia/status/1283230484139401217).
15. 07. 2020
Amnesty International hat heute einen Blogbeitrag zum Fall von Hejaaz Hizbullah veröffentlicht, einem Anwalt aus Sri Lanka, der zu Unrecht inhaftiert wurde.
https://www.amnesty.org/en/latest/news/2020/07/sri-lanka-on-hejaaz-hizbullah-and-the-prevention-of-terrorism-act/
13. 07. 2020
Am 10. Juli haben Amnesty International und sechs weitere Menschenrechtsorganisationen im U.N. Human Rights Council eine gemeinsame mündliche Erklärung zu Sri Lanka abgegeben:
https://www.amnesty.org/en/documents/asa37/2716/2020/en/
12. 07. 2020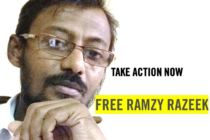 Ramzy Razeek ist ein srilankischer Blogger, der seit dem 9. April 2020 ohne Anklage wegen Ausübung seiner Meinungsfreiheit inhaftiert ist. Amnesty International hat ihn zum gewaltlosen politischen Gefangenen erklärt und fordert seine sofortige, bedingungslose Freilassung.
Externe Nachrichten:
Interview mit South Asia Researcher Thyagi Ruwanpathirana: Defending Human Rights (Daily Mirror, 20. 07. 2020)
Nine army officers to be indicted on murder charges (Daily Mirror, 09. 08. 2019)